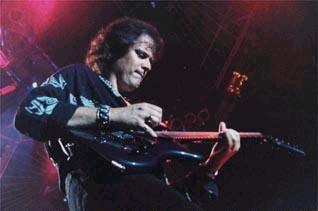 This show was uploaded by the friend Tadreamer62.
It's an audience recording with very good sound. See the original notes:
It was strange to see one of the dinosaurs of the 70's to play and acting like a typical
80's band, in the vain of Spandau Ballet or Tears for Fears! But the music was sooo good and the audience was looking
forward to see them after a 10 years absence from italian territory.

I remember hearing people describing the time they had
seen the band more than 10 years before in Milano, with PFM opening. The sound of the hall was quite good, despite the fact
this sports hall was not really designed for music events. Eventually, it was shut down and then destroyed one year later,
when a big snow in winter resulted in collapsing the venue's roof. This version comes from a direct copy from the master
I had in the early 90's from the taper himself, I big german guy who used to go around Europe and tape many shows with his
Sony Pro (thanks Robert L.!). It sounds amazing if you consider it's almost 23 years ago. I reduced a little bit basses
and enhanced trebles to sound it more clear, balanced the volume of the two channels and eliminated tape flips.
It's a very good sounding show, a real improvement from the master.

ldb
01 Intro / Cinema
02 Leave It
03 Yours Is No Disgrace
04 Alan White drums solo /
05 Hold On
06 Hearts
07 I've Seen All Good People
08 Si (Tony Kaye solo)
09 Solley's Beard
10 Changes
11 And You And I
12 Soon
13 Make It Easy/Owner Of A Lonely Heart
14
It Can Happen

15
Long Distance Runaround/
16
Whitefish/Amazing Grace
17
City Of Love
18 Starship Trooper
19 Roundabout
20 Applause / Outro music

Links on comments!